Elders may be at increased risk for suicidality, but caregivers can help them stay safe
By Walker Tisdale III MPH, MA, LMSW
According to the Centers for Disease Control and Prevention (CDC), older adulthood is a time of high risk for suicide. Collectively, caregivers of elders, public health organizations, government agencies and neighbors can alter that dangerous trajectory.
Demographers estimate that by the year 2030, over 71 million Americans will be age 65 or older, 20 percent of the U.S. population. Baby boomers, those born between 1946 and 1964, have a historically high suicide rate, and as they enter older adulthood, it is anticipated their suicide rate will continue to rise.
To intervene, caregivers need to recognize mental health warning signs. Certain behaviors may indicate thoughts of self-harm. By staying aware and planning ahead, caregivers can save the lives of their elders. The SAMHSA website has published warning signs of elders at risk of suicide. They include:
Talking about wanting to die or kill oneself
Looking for a way to kill oneself
Talking about being a burden to others
Increasing the use of alcohol or drugs
Acting anxious or agitated, behaving recklessly
Sleeping too little or too much
Withdrawing or feeling isolated
Showing rage or talking about seeking revenge
Displaying extreme mood swings.
Prevention strategies are important to develop now, so caregivers can rely on them when necessary. One example is to communicate with an elder's healthcare provider regarding substance use and any existing mental health conditions.
Another example, especially in crisis situations, is to call 988, the Suicide and Crisis Lifeline. It's available 24/7 and connects elders or their caregivers with mental health professionals very quickly.
Safety planning also is an important tool. It involves prioritizing coping strategies – using activities or talk that has worked in the past – and support networks – connecting with people the elder knows and trusts who can provide empathetic listening. Many times, elders just need someone who can listen actively and empathetically to call or visit them.
Aging doesn't have to be a frightening life stage. Caregiving, contact and emotional support go a long way toward ensuring that an elder remains comfortable, feels balanced and stays safe.
---
Here's a worksheet to help family caregivers plan ahead. You're welcome to download it and share.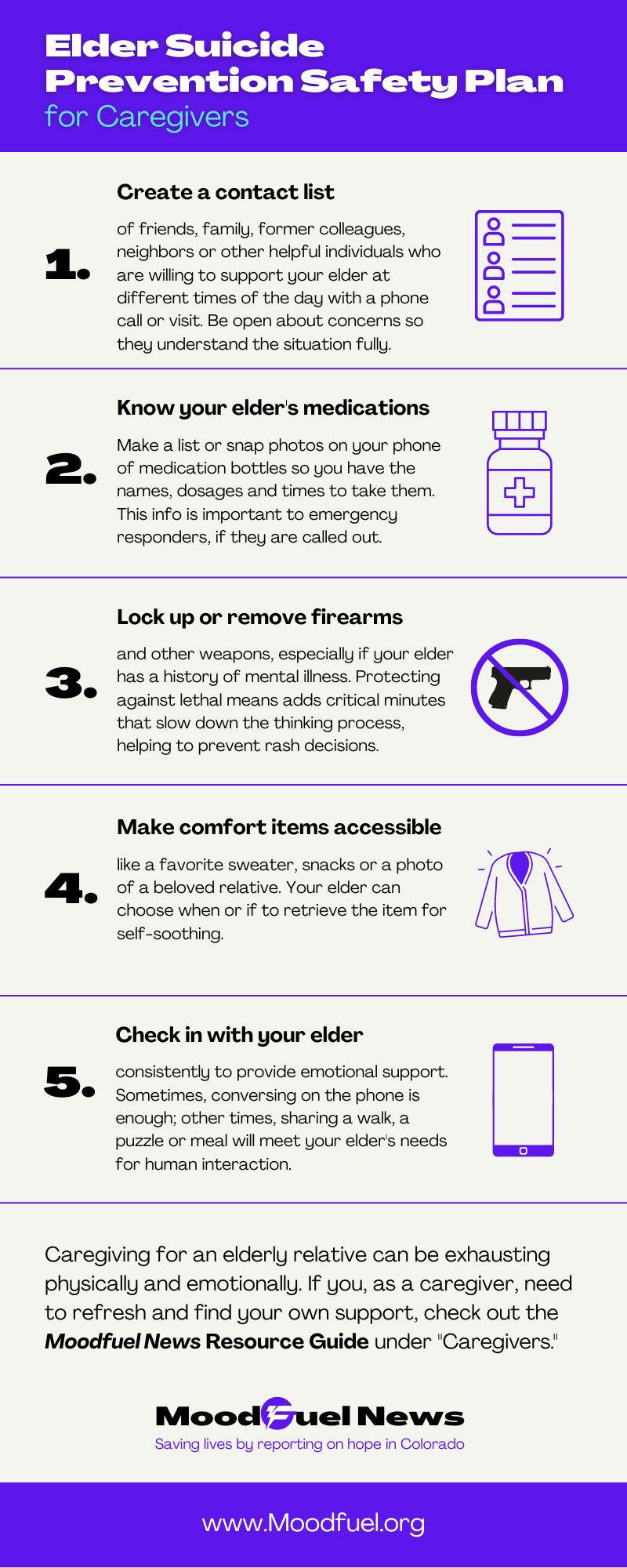 If you, as a caregiver, need support, check out the Moodfuel News Resource Guide under "Caregivers."