Through "Quiet Quitting" and the Great Resignation, workers create a culture shift that provides opportunity for employers
Washington, DC – United States Surgeon General Dr. Vivek Murthy released Framework for Mental Health & Well-Being in the Workplace, a document outlining the role companies can play in promoting mental health. As reports of "quiet quitting" and the Great Resignation have shown, the pandemic has changed the nature of work and the relationship some workers have with their jobs.
With average full-time workers spending about half their waking life on the job, Vivek said employers have a unique opportunity: invest in the mental health of their workforce and strengthen company success by doing so. "A healthy workforce is the foundation for thriving organizations and healthier communities," said Murthy.
"As we recover from the worst of the pandemic, we have ... the power to make workplaces engines for mental health and well-being. It will require organizations to rethink how they protect workers, foster a sense of connection, show workers they matter, make space for their lives outside work and support their growth."
Murthy outlines what he calls the five essentials to help businesses develop or update policies, processes and practices that best support the mental health of their workers:
Protect from Harm: create conditions for physical and psychological safety. To assure protection from harm, workplaces can:

Enable adequate rest
Normalize and support mental health
Enact Diversity, Equity, Inclusion, and Accessibility (DEIA) programs

Connect Community: foster positive workplace relationships that support well-being. To promote connection and community:

Create cultures of inclusivity
Cultivate trust
Foster collaboration

Balance Work and Life: Decrease conflict between professional and personal roles. To ensure work-life harmony:

Give workers more autonomy in doing their jobs
Make schedules as flexible and predictable as possible
Increase paid leave
Respect boundaries between work and non-work time

Value Workers: people want to know they matter and that their work matters; "mattering" lowers stress and decreases the risk of depression. To create a value culture:

Pay a living wage
Engage workers in decisions that affect them
Build a culture of gratitude and recognition
Connect all roles to the organization mission

Provide Growth Opportunities: when workers accomplish goals based on their skills and growth, they become more optimistic about themselves and more enthusiastic in contributing. To advance growth-oriented practices:

Offer high quality opportunities for training, education and mentoring
Delineate clear, equitable, achievable pathways for advancement
Institute reciprocal feedback so workers can comment on and suggest improvements for these practices.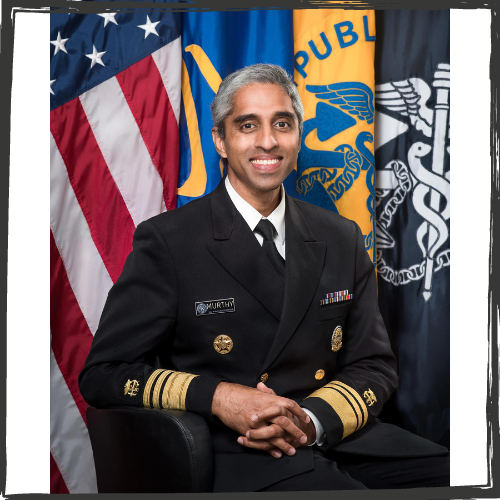 As the "Nation's Doctor," Murthy is the 21st Surgeon General. According to the Office of the Surgeon General website within the Department of Health and Human Services, he oversees the U.S. Public Health Service Commissioned Corps, an elite group of 6,000 uniformed public health professionals. Their mission is to protect, promote and advance the health of our nation.