By Danielle Bowie, Stat
Nursing professional lays out the risks of minimizing the mental health of her colleagues
Since the start of the pandemic, the dire state of nursing has been grist for endless headlines, studies and think pieces as has the epidemic of clinician mental health problems.
People like me who are concerned about nursing have been hoping that this moment might actually be a catalyst for progress and a step toward enacting reforms the profession needed well before COVID-19 changed lives around the world. The pandemic exposed — and exacerbated — existing cracks from understaffing to unsustainable patient loads to workplace cultures minimizing mental health.
My colleagues and I at Trusted Health were interested to see if the widespread conversations around mental health were being translated into programs, benefits and institutional and cultural change for nurses on the frontlines. We dug into this via the company's annual survey to which 2,500 nurses responded.
The results don't paint a pretty picture. Nurses' mental health has not rebounded to anywhere near pre-COVID levels even as the most acute phase of the pandemic appears to be subsiding. On a scale of one (poor) to 10 (excellent), nurses rated their current mental health and well-being at an average of 5.8 compared to an average of 7.8 before COVID-19, representing a decline of 26 percent. They reported a range of physical and mental health issues as a result of the pandemic, including burnout, compassion fatigue and depression and the majority were not satisfied with workplace support for their mental health.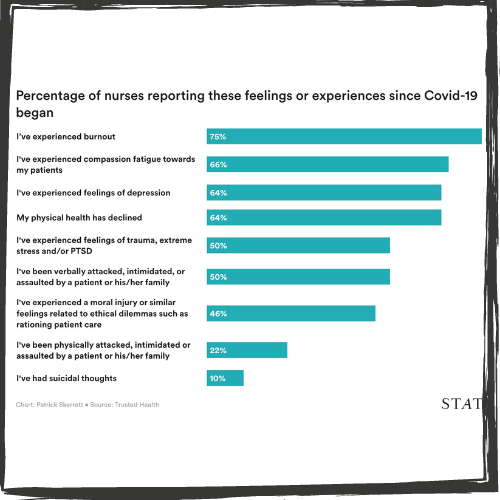 Perhaps most disturbing, one in 10 nurses reported suicidal thoughts since the start of the pandemic, more than twice the incidence of such thoughts among the general U.S. adult population.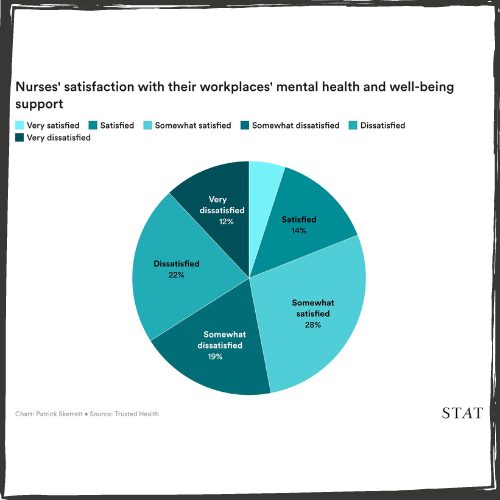 Despite the multitude of public conversations, two-thirds of nurses said that the healthcare industry's stance on nurse mental health had not changed since the start of the pandemic. Even worse, 95 percent said their mental health was either not a priority in the industry or that it was a priority but measures to support it were inadequate.
My interpretation is that nurses see the conversations and campaigns about mental health as mere lip service. Our industry has made few substantive changes to make nursing a more sustainable career path.
When viewed through this lens, it's little wonder that nurses are unlikely to seek support at work for mental health issues. Nearly 60 percent of survey respondents said they were either "somewhat unlikely" or "very unlikely" to share feelings of acute depression, suicidal thoughts or mental health issues with their manager or another individual at their facility, citing concerns about confidentiality, job security and minimal effort to address the issue they are experiencing.
No surprise here – 64 percent said they were less committed to the profession than they were before the pandemic, a 39 percent increase from year before. This figure is particularly worrisome coming from those who have been staying the course through once-a-century horrors but now have one foot out the door.
My biggest takeaway from the survey is that nurses don't feel supported or valued by their facilities and leaders. They don't think their sacrifices have been honored through cultural changes that would make nursing more compatible with mental health and wellbeing.
For nurses experiencing acute distress, crisis hotlines and counseling are still essential, but survey respondents are looking for long-term well-being. Flexible scheduling, wellness stipends and access to fitness facilities and/or classes topped the list of offerings the respondents selected.
The desire for new and innovative scheduling options aligns with previous research which found that nearly three-quarters of nurses said their work experiences would improve if they had more control over their schedules. More than half said the way schedules are traditionally set – three 12-hour shifts per week with scheduled out four to six weeks in advance — lowers their job satisfaction.
Nurses are watching workers in other highly-skilled industries gain access to flexible hours and remote work and are being lured away by opportunities that recognize their value. To keep nurses at the bedside, hospitals and health systems need to find ways to offer them the same opportunities.
They also need to take decisive steps toward addressing the well-documented history of stigmatizing clinician mental health. The fact that nurses are experiencing extremely high levels of depression, trauma, stress and suicidal ideation and yet don't feel comfortable disclosing these issues to their employers is alarming, particularly when those struggles result directly from the job.
More needs to be done to create a culture in which nurses feel safe talking about their mental health and know that doing so won't have negative consequences for their employment. When mental health programs are promoted to nurses, they should be packaged with strong messaging around confidentiality and job and license security.
Improving the relationship between nurses and their managers is another important step toward creating the kind of psychological safety net that's necessary for nurses to come forward. The average nurse manager is responsible for 85 to 90 direct reports, leaving little time for mentorship or rapport building. The impact of this is evident not only from nurses' reticence to talk about their mental health, but also in the fact that just 3 percent reported their relationship with their manager was helping them stay committed to nursing.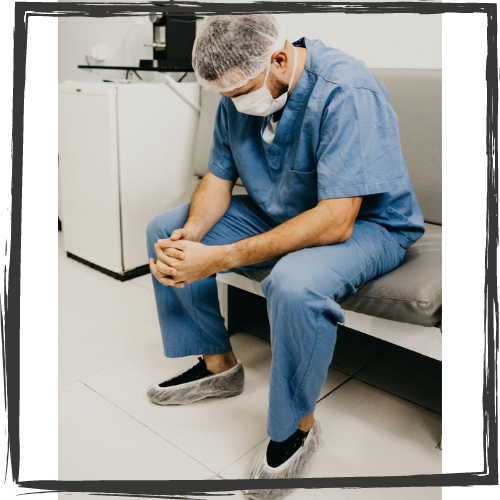 Given the outsized importance of this relationship in nurse satisfaction and retention, it is in need of a massive overhaul. Hospitals and health systems need to better train their nurse managers, find ways to free them from the tedium of tasks like staffing and scheduling and equip them to lead from a place of transformation rather than transaction. This includes encouraging and facilitating substantive discussions about nurses' career aspirations, well-being and contributions to the larger profession, rather than simply focusing on compensation, scheduling and day-to-day tasks.
The pandemic has ushered in a profound shift in conversations about mental health and the workplace. More Americans are unwilling to sacrifice their mental health for the sake of their jobs and believe their employers should play more active roles in helping to support them.
Based on the sacrifices nurses have made over the last two-and-a-half years, they deserve this support and the stakes couldn't be higher for them to get it.
Read the original article here.
Danielle Bowie is a registered nurse, an expert on the nursing workforce and vice president for clinical strategy and transformation at Trusted Health, a career marketplace for health care professionals.