By Janelle Bradley, Project Optimist
Lethal means safety inserts critical minutes between a veteran experiencing suicidal ideation and a tool to carry out the intent
(This story was produced by Jannell Bradley at Project Optimist, an independent, digital news service featuring solution-focused journalism for greater Minnesota.)
Suicide is a complex issue that rarely comes down to just one thing. Signs that a person is considering suicide can be difficult to spot, but homelessness, chronic pain, substance use and difficulty transitioning into civilian life are risk factors for veterans, according to the U.S. Department of Veterans Affairs (VA).
Another risk factor: knowledge about and ownership of firearms.
Nearly 50 percent of current or former military members own at least one firearm, compared to 22 percent of the rest of the population nationally, according to the Center for American Progress, a nonpartisan, progressive think tank. In locations with higher gun ownership, deaths by suicide with a firearm increase.
As part of their "lethal means safety" effort, the VA teaches veterans and their caregivers how to put time and distance between themselves and the method they're planning to use for suicide, said Ann Fleming, suicide prevention coordinator at the St. Cloud VA Health Care System.
"When people decide to act, 75% of the time it is within an hour," Fleming said. "Twenty-four percent of the time it is within five minutes. Putting time and distance between the person and the object is important. It gives them time to pause in a crisis."
Lethal means safety is an effort promoted by the VA to stop veteran suicide. Find tips for lethal means safety here.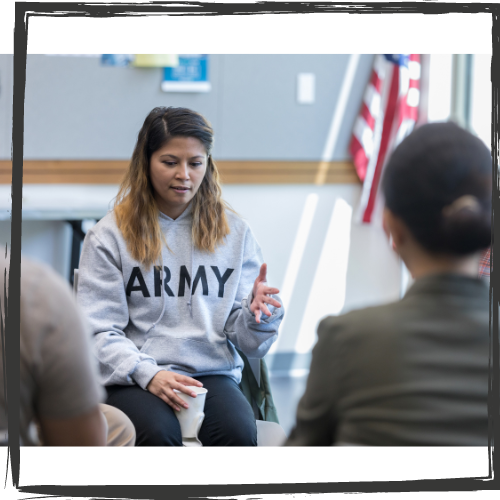 VA medical professionals have increased conversations with veterans about their access to firearms and medications, storage and ideas for help, Fleming said. Often this means brainstorming ideas that work best for the individual, including providing gun locks and sending extra medications back to the VA.
There is evidence that when a firearm is locked up, the veteran in crisis will likely not try another means for suicide, according to research cited in Suicide Prevention is Everyone's Business: A Toolkit for Safe Firearm Storage in Your Community. Because the acute risk of suicide is often measured in minutes, using a cable lock, gun case, lock box or gun safe can significantly reduce the risk of death by suicide.
From crisis to long-term support
"We want to focus on ways to ensure safety in the event of a crisis," said Laura Stumvoll, community engagement coordinator at the St. Cloud VA. This means being very intentional in conversations providers and others have about lethal means.
Stumvoll said the VA has ongoing conversations with veterans about potentially harmful objects (firearms, pills, etc.) and limiting access. Often this means tapping a partner, such as a responsible friend, to help with storing items. "We get creative," Fleming said. "We have these conversations with all veterans, not just those considered at risk."
Follow-up care is a standard practice for the VA, meant to engage veterans regularly and measure progress. This could mean daily or weekly phone calls to check in, pre-scheduled appointments for follow-up on meds or involvement in support groups and other programs. Care coordinators work with individuals to help manage their ongoing needs.
"Mental health checkups are really important," said Fleming. "Even if you're doing well, you still need to stay on top of it."
Read the original article here.
Share this information on a confidential, free Lifeline just for veterans: