By Renata Hill, Moodfuel News
This comprehensive roadmap written with unconditional transparency guides Black people in receiving culturally appropriate mental healthcare in an unequal system
Being a Black person in the U.S. is bad for your health. Researchers, like David R. Williams, Dr. W. Michael Byrd and Dr. Nwando Olayiwola, say our healthcare system is part of the problem. Black people – when they can get in to see a healthcare provider – experience "stunning" inequities.
White people, usually men, still occupy the majority of high-paid positions in healthcare, such as physicians and hospital and health system administrators. Their white gaze sweeps from the top down to influence the process of who receives optimal treatment and who is consciously or unconsciously marginalized.
According to the American Psychiatric Association, when discussing mental health with Black patients, physicians are 23 percent more verbally dominant and 33 percent less patient-focused. In their research, scientists have found that Black people are less likely to receive evidence-based medication therapy or psychotherapy, and are more frequently under- or misdiagnosed. Plus, the frequent presence of stress hormones in Black bodies leads to conditions like depression and suicidal intensity.
---

---
University of Houston psychology professor, clinical psychologist and director of the Culture, Risk and Resilience Lab, Rheeda Walker, PhD, is an expert in the identification and analysis of such health inequities. She has been examining two understudied areas – suicide science and Black adult mental health – since 2002.
During the last decade she found that suicide rates have increased dramatically among racial and ethnic minorities, and Black Americans in particular. All ages fall into this at-risk population, but Black people of 25-34 years are most highly affected. "Black people endure all the typical stressors of everyday life, plus racism, and we are not immune to the daily assaults on our dignity and safety," she said.
Walker's primary goal over the past two decades has been to develop culturally relevant models of well-being. As the author of 60 research papers and journal articles, she's learned that approaches which work for white people don't work for Black people and other ethnicities.
She believes "a professional's good intentions are not enough to cross the divide of suspicion and mistrust that exists between authorities ... and marginalized communities." She has learned that stigmatized groups require "sensitive, evidence-based care," a technique lacking in traditional U.S. healthcare systems where "the roots of mistrust that prevent people of color from seeking help" continue to grow deeply.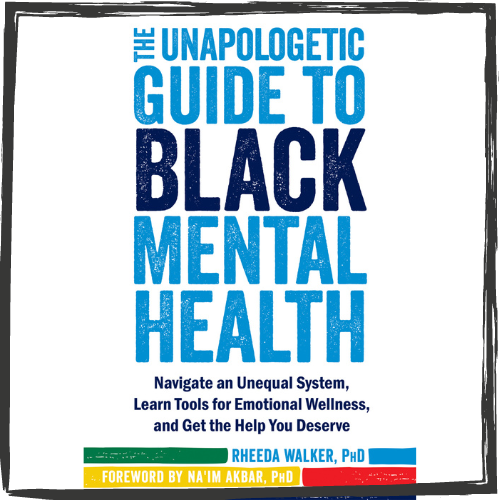 Walker wrote The Unapologetic Guide to Black Mental Health to bring attention to the mental health realities of Black Americans and to provide a plan. As one supporter put it, "Dr. Rheeda speaks and writes to help Black people make a way out of no way."
"We are at the intersection of overwhelming, unaddressed stress and the absence of cultural identity to help fix it," Walker stated. Her book offers important information on the mental health crisis in the Black community and ways to combat stigma and spot warning signs. It's also a self-help guide for practicing emotional wellness and, most importantly, accessing the best possible care in a mental healthcare system steeped in racial bias.
Despite the research emphasis, including detailed discussions on the historic and current effects of racism on the Black body and psyche, she wrote it to appeal to everyone in Black communities. Helen Neville, Professor of Educational Psychology and African American Studies at the University of Illinois at Urbana-Champaign, agrees. "It's rare that I would recommend [the same] book to parents, families and mental health professionals alike."
Walker is conscious of economically-based accessibility challenges and knows that sometimes her book isn't available at local libraries. Therefore, she maintains a presence on Instagram and created an online library of numerous YouTube videos.
As Walker said in one of her YouTube videos, "Life happens. Racism happens." Black people need psychological fortitude, or PF as she terms it, to withstand daily challenges, such as the stigma that prevents Black people from seeking mental health support.
The Unapologetic Guide to Black Mental Health enables Black readers to create a "web of protection" for their minds by developing the PF of mental resilience.