By Sonia Gutierrez, RMPBS
Colorado author was told she wouldn't succeed, but she set goals, showed up for her life and learned to value her own voice
DENVER — When Kali Fajardo-Anstine was in high school, a teacher told that her students like her can't be successful. She was struggling with her mental health and ended up dropping out.
Fast forward a couple years. Fajardo-Anistine is now a national, best-selling author of the novel Woman of Light and the widely acclaimed short story collection Sabrina & Corina, a National Book Award finalist.
Since her work has been honored across the country, she ensures that other Latinas, like her, understand that they, too, can succeed.
How did you grow up in Colorado?
I'm the second eldest of seven children. My family has been in Denver since the 1920s. On my maternal line, my mother's people came north from the San Luis Valley and northern New Mexico. I have a great-grandfather who came from the Philippines.
On my father's side, we are white Americans from Nebraska by way of Poland. So, I grew up with this incredibly multicultural, diverse family and we are very proud of our Latina/Latino heritage from Colorado.
We would drive all over the city to visit an auntie from the west side and my great-grandma in Five Points and it was a very vibrant, wonderful life filled with storytelling.
Can you share your struggles with mental health and how that lead you to become a writer?
I faced a lot of challenges in school, and struggled a lot with depression and mental health in those years of my life. It was through writing I found an outlet and something that made me feel smart and in control of my own destiny.
I really started to struggle by the time I was in elementary school. I came from this very big family and didn't have a lot of support with my homework. There were so many kids. We lived in a small house and I didn't have my own bedroom or a quiet space where I could go study. The only time I would have any moment to myself is when I would walk to the library, and I would sort of hide out there.
In high school, I decided to become a writer because I read many novels. [They] were safe spaces for me, and I could see myself in these stories even though not many of the characters looked like me or came from my same background. Also in high school, one of my teachers told me I would never be able to go on to college [because of] my grades and my absences and my depression. Someone like me would never be a successful student. So, that lead me to drop out, but it wasn't the end of my story.
How did your career as an author develop?
I ended up getting my GED right away. I went to Metropolitan State University of Denver where I studied English and Chicana/Chicano Studies. Again, I did not know someone like me could end up getting a master's degree in creative writing. I didn't even know [the degree] existed until a professor saw I had talent and said, "Hey, I think you should apply for these graduate school programs."
It was not an easy journey once I got to graduate school. I was the first in my family to leave the state. I went far away to California; I was all alone.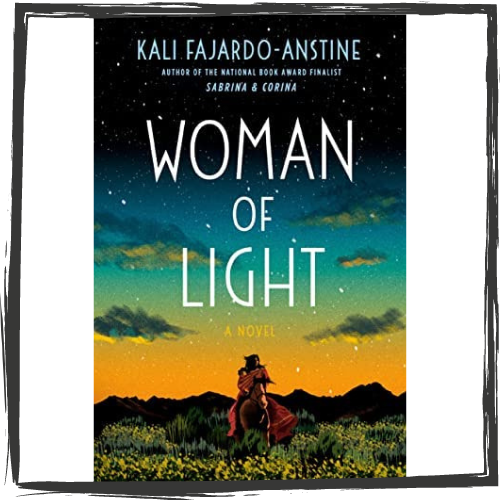 During that time, the family matriarch, my great Auntie Lucy, died. I remember again being so overwhelmed with sadness and feeling like I was all alone, and I wasn't smart enough to be in school. So, I left that program as well.
Eventually, I ended up graduating with my masters of fine arts from the University of Wyoming, but that was after really committing myself and deciding what I had to say was important. It did not matter how many people told me they were not going to publish me, that no one was going to listen to my story. I decided this was something I was doing for myself and for my family. No one was going to tell me otherwise.
After I graduated from my master's program, I kept writing. It would be several years before I was able to publish my first book, Sabrina and Carina. During that time, I was sure of my purpose. I was meant to be a writer and no matter what happened, I just kept going.
How is honoring your ancestors a part of your work?
I grew up with this big, big family. The best storytellers were my Auntie Lucy, my godmother Joanna, my great-grandma Esther and my great-grandpa Alfonso. Their lives were just incredible! They had come north from southern Colorado. They were very poor. They worked the fields, picked beets. My great-grandpa from the Philippines worked as a waiter his whole life. They were so glamorous to me.
They would talk about going to dances in their beautiful clothes and makeup, but then I would look [at] the movies and in books and there were no characters like them. There were no families like us, and they weren't set in places like Denver.
In my early teens, I remember being on Galapago Street on the west side at my Auntie Lucy's house and hearing her tell the stories of her upbringing and her teenage years in the city. I remember thinking, "This has to be a novel. I'm going to write a novel about my family someday."
In a lot of ways, Woman of Light is really my attempt to honor my family's story, to put us into the historical record, but also make sure that people who come from backgrounds like mine have big, epic stories and novels just as much as other people. I want to make sure they feel included in the world of literature.
What would you tell your younger self?
A lot of students will come up after a talk or book event and say, "How did you do it? How did you keep going?" I look at them and see the sadness. They've been told they're nothing, they're not going to succeed or their home life may be chaotic. Maybe they don't have a lot of money. Maybe they're struggling with depression and anxiety or other mental health issues. When I see students like that, I see myself.
I would tell myself as a younger person, as a younger Latina, it's going to be better. I know it's going to be better because if you keep putting your best foot forward, the universe will conspire to support you. I truly do believe that.
One of the things that helped me greatly in my journey of resiliency is setting goals. I had my long-term goal – to be a famous writer. How was I supposed to become a famous writer growing up in Denver with no connections to the publishing world in New York City? Well, I didn't know how I was going to do that, but I set a goal. I said, "I want to be a big writer someday. I want people to read my books." That was the very first step [so] I knew where I was aiming. The second step was smaller goals. The big goal was really off in the distance, but the smaller goals were going to help me get there.
The biggest thing I would tell students like me is make to have your long-term goal, but also your short-term goal and do know that it will get better. As long as you keep showing up for your life and you keep valuing yourself and your community and where you come from, we will help you and support you. The world will support you; I do believe that.
What is your favorite memory of sharing Sabrina and Corina with your family?
I lived in this low-income housing development behind Coors Field. My mom had come to see us and I had just gotten copies [of the book]. I'm running outside this big building [shouting], "Mama, Mama, roll down the window!" She says, "What is it? What is it?" I just hold the book up and my mom starts crying. She grabs it and she hugged it and kissed it like a grandchild. She said, "Oh my God, my baby's baby." She kept crying. I'm crying now as I share the story.
In that moment, I realized it's so much bigger than me. This is about the whole community.